The kitchen really is the heart of the home, it's where family and friends congregate, news gets celebrated and decisions get made. So, for such an important room in the house, it's important that it is not only functional but stylish too. A great way of maximising your kitchen space and adding something really special to the design is with a kitchen island, and at Saturn Interiors, kitchen island design is our forte!
But choosing the right island design for you is key (since it will form a prime focus of your kitchen space), so to help, we've collected together over 70 beautiful kitchen island ideas for you to feast your eyes on and get inspired! If you like what you see, book a free design appointment today to make your dream kitchen a reality!
1. A contemporary kitchen island with hideaway seating is a seamless space-saving solution for your modern kitchen.
(images by 9images)
2.
This modern kitchen island is dramatic with metal worktops whilst providing plenty of functional space to prepare food and eat at.
3.
Go for rustic charm with a natural wooden worktop, cream paint and plenty of storage make this an ideal island for those with larger kitchen space.
4.
Mix chrome appliances, marble worktops and painted woodwork for a synergy of modern and traditional. Finish off this kitchen island with eye-catching lighting.
5.
Make the most of limited space by designing a kitchen island around your appliances and adding some extra workspace too
6.
Plenty of counter top space? Use a kitchen island as your cooking area complete with overhead hood.
7.
Kitchen Islands aren't just for the country home. This clean-lined wooden island with fitted sink and dishwasher makes the perfect addition to your modern city kitchen.
8.
Extend your kitchen island to allow for some seating and make your kitchen a more sociable space.
9.
Create extra seating and storage space on the back of an island or a peninsular run by incorporating kitchen furniture into your design.
10.
Don't scrimp on seating just because you have a smaller kitchen. This island on wheels can easily be moved out of the way and the stools tuck under the overhanging top.
11.
Why have one space when you can have two? This kitchen island has two levels – perfect for cooking and dining.
12.
Create contrast with a dark worktop and light painted cabinets for a striking kitchen island complete with seating
13.
Style and functionality combined with this urban inspired kitchen island complete with sink, hob, overhead hood and lighting.
14.
Integrate a slim-line table within your kitchen island for a perfect way to cook and entertain friends or family at the same time, and this glass slim-line adds a sleek, clean feel.
15.
Incorporate your appliances into a kitchen island by using it to house a microwave, or even a fridge – saving crucial space elsewhere in your kitchen
16.
There's no need to be square with kitchen island ideas, add a circular seating and eating area to your kitchen design.
17.
Why sacrifice storage for seating when you can have both with this compact kitchen island.
18.
Sometimes simple is best – this Quaker style island is small but perfectly formed allowing for space to sit too.
19.
Soften harsh modern lines by adding a natural wood breakfast bar to your kitchen island design
20.
Soft girly shades makes this the perfect kitchen island for prepping, cooking and dining with friends.
21.
Use a kitchen island to break up an open plan space and separate the kitchen from the living area
22.
Create a focal piece in your minimalist kitchen with this stunning raw-edged wooden worktop to contrast with the clean white kitchen island
23.
Go for a really unique kitchen island design focusing on seating and subtle areas to use as work space:
24.
Why not go for a functional modern design with a kitchen island that works around you?
25.
If you're in kitchen design for the wow factor then this concrete and tree trunk kitchen island will certainly get your guest's attention
26.
If you like your design quirks to be a little more subtle, why not incorporate some nature inspired finishes to compliment an otherwise stylish and functional kitchen island.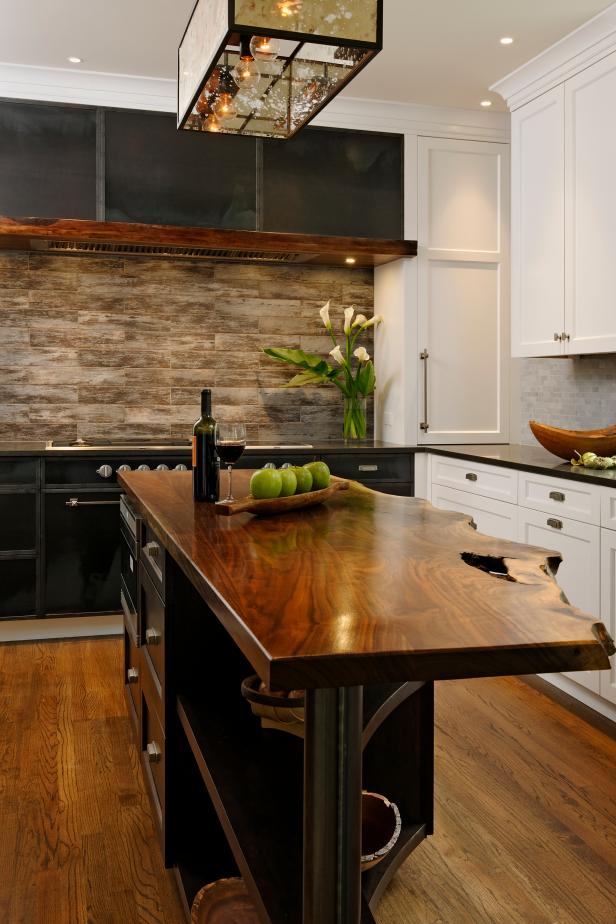 27.
Get clever with your kitchen island ideas with an island in an island – try this crafty yet practical design feature to maximise space
28.
If including a breakfast bar into your kitchen island design is a priority – why not mix it up by adding a round seating area to an otherwise traditional and tasteful kitchen island.
29.
If you like to be at the forefront of design this crystal worktop kitchen island is perfect creating an atmospheric environment to entertain in.
30.
Go for salvaged materials for a quirky freestanding kitchen island which helps you make the most of your space.
31.
Reclaimed chunky wooden furniture make great kitchen islands for your small but stylish kitchen.
32.
This upcycled dresser is a cute yet practical way of adding a kitchen island to your vintage home that also gives you more food prep space
33.
This dark wood antique cabinet used as a kitchen island adds grandeur to a clean and crisp country kitchen without looking out of place.
34.
Mixing industrial materials and textures for this multi-level kitchen island with breakfast bar seating gives an otherwise plain kitchen a different design dimension.
35.
Want that perfect piece to finish off your farmhouse style kitchen? Almost anything can be repurposed into a kitchen island like this salvaged fruit shop stand.
36.
For those with more lavish kitchen island ideas – this plain white island is turned into a focal point with reclaimed seating and low hanging chandeliers. Finish off the look with a flower arrangement for a pop of colour.
37.
Keep it simple with a plain white marble topped kitchen island and some low hanging lights for your compact kitchen.
38.
If things are tight both space and budget wise – repurpose an old cabinet with a lick of paint and a wooden work top to get the most out of adding a kitchen island to your home.
39.
Small yet effective– this deep butcher's block has been fashioned into a kitchen island adding subtle drama to this clean white kitchen.
40.
Turn your kitchen waste bin into a freestanding kitchen island that can easily be relocated, whilst providing the perfect area to prep your food for cooking.
41.
Display your cookbooks and add some extra storage to your small apartment kitchen with compact kitchen islands like this that are suitable for almost any space.
42.
Add some colour to your plain kitchen with a painted kitchen island and matching worktops to compliment the rest of the kitchen.
43.
Minimalistic can still have clutter! Choose a clean white kitchen island to enhance your minimal style whilst storing those not so minimal items.
44.
Add rustic charm and colour to your kitchen with a stained kitchen island contrasted with a dark wood work top and seating.
45.
Make a bold statement with chunky dark varnished wood for a robust and space enhancing kitchen island.
46.
Can't get enough of storage? This solid kitchen island allows for drawers, cupboards and shelving as well as an overhead pot hanger creating a dynamic centre piece to the heart of your home.
47.
More than just a functional food prep area, this large kitchen island includes an overhanging worktop as an added breakfast bar.
48.
Display your best china and continue a colour theme with a bold, painted kitchen island that completes your homely design.
49.
Add warmth to your cottage kitchen with a chunky untreated wood topped kitchen island with space for wicker storage baskets.
50.
Turn your bright fresh kitchen into a social hub with a matching painted island and plenty of seating space.
51.
Use every nook and cranny of an otherwise simple kitchen island to maximise your storage space in your compact kitchen.
52.
Longer kitchen islands with added seating create a bar type atmosphere – the perfect way to keep the drinks flowing for your guests while you cook dinner.
53.
Contrast exposed country cottage beams with reclaimed office furniture used as a kitchen island for an interesting design twist:
54.
It might be big but this freestanding kitchen island on wheels provides plenty of storage and worktop space whilst being easily moved.
55.
Work your limited space with a movable freestanding kitchen island housing your waste bin, utensils and food prep area all in one.
56.
If you don't have space for both a kitchen island and table – why not combine the two? Give yourself extra work and dining space with a cabinet island doubling up as an eating area.
57.
Don't always need the extra work space? This kitchen island has extendable worktop space which can be folded away when not needed.
58.
Use several materials and levels for a contemporary long line kitchen island drawing you into the kitchen area of an open plan space.
59.
This modern custom made kitchen island makes a feature of angles breaking up cool colours with warm mid-shade wood.
60.
Monochrome doesn't have to be uninviting – this modern black and white kitchen island has a separate seating area to relax in.
61.
Use your kitchen island to add mood lighting to your contemporary kitchen with glowing under counter lighting.
62.
Merge materials and shapes for a truly unique kitchen island with a breakfast bar area
63.
Combine a crafted metal kitchen island with raw wood seating to contrast manmade and natural items in the same space.
64.
Patterned tiles add colour and warmth to this polished concrete kitchen island and clean white kitchen
65.
Make a statement in a small kitchen with this large dark wood freestanding kitchen island which can easily be moved to free up space.
66.
There's no need to sacrifice seating for storage. With this simple freestanding kitchen island, there's plenty of space for your kitchen items and comfortable seating for two.
67.This customised workbench makes a perfect kitchen island adding weight to a simple kitchen whilst freeing up cupboard space.
This customised workbench makes a perfect kitchen island adding weight to a simple kitchen whilst freeing up cupboard space.
68.
This modern metal kitchen island on wheels is softened with a natural wooden top making this a stylish yet durable addition to your kitchen furniture.
69.
Compliment your already functional kitchen with a small kitchen island which can be used to extend existing workspace or stand alone as an additional area to prep food.
70.
Add simple spindle-legged stools to this majestic kitchen island with an overhanging breakfast bar for all the family to enjoy meal times in the kitchen
71.
Breathe life into an old console table and repurpose it as your new workstation with plenty of leg room underneath for seating
72.
Salvaged railway sleepers have been used to build this custom kitchen island with complimenting glass light fixtures overhead to complete the look on this focal point piece of furniture.
73.
Small and sweet this old chest of drawers has been painted a bright blue to add a splash of colour to a small and plain kitchen – the perfect kitchen island idea if you have a rented home!
74.
Is there no end of uses for old shipping pallets? If you fancy yourself as a competent DIYer – this home-made kitchen island has been painted to complement the existing colour scheme whilst housing space for seating in a cheeky green.
75.
Need a kitchen island on a budget? Once again palettes come to the rescue for even the most novice handymen amongst us – this kitchen island is created using just two palettes and given a clean modern finish with gloss white paint.
We hope these kitchen islands have given you some inspiration for your kitchen design! If you enjoyed this article, do share it on Facebook and Twitter, or let us know which was your favourite!